Palleonn Center provides a wide range of immigration services during the entire application process.
"Full package" service option includes our joint cooperation with client during the whole period of immigration process, covering all possible multi-program applications from start to landing and further through settlement. It means that in this services package we will keep applying and processing your case until you finally get to Canada – no matter how much time and effort would be used.
"Consulting package" service option is designed to inform you about all actions and requirements related to the collection, registration, translation, and notarization of documents, as well as to advise on questions about correspondence with migration services and completion of application forms. This format of cooperation supposes that you will independently go through your immigration process, while our team will consult you during the whole immigration process about how and where to submit documents, in what form and will perform final verification/case check of your document package. This option suits best for those who have a lot of free time to spend on learning immigration on their own example and getting directions and instructions for self-application from the Palleonn professional team.
The range of our services includes and is not limited to the conduction of immigration chances evaluation and language simulator test administrated by operators of Palleonn center. Our Senior Language Methodologist further estimates your results and provides a detailed analysis of your language proficiency level in accordance with the necessity for immigration, education or other purposes of relocation abroad.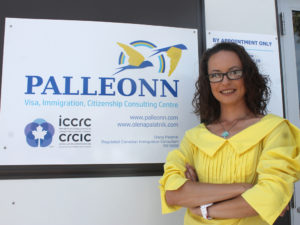 Analysis of your candidature for immigration, obtainment of various types of visas or other issues of immigration law, as well as program selection, identification of strengths and weaknesses of immigration case, provision of professional advice on your case – all these services, are provided to you personally by the Regulated Canadian Immigration Consultant Olena Palatnik – RCIC license R519269.
If a candidate has previous refusals, deportations, criminal records, violation of any other countries' laws, difficult situations (for example, have ground for obtainment of refugee status or have problematic relatives, etc.) Palleonn Center evaluates immigration chances in the concilium survey format – together with thoroughly selected immigration lawyers and consultants in Canada, who major in specific program/problem areas. All specialists are regular members of Canada Immigration Education Alliance, Canadian Association of Professional Immigration Consultants and are actively involved in research and tutoring activities at Canada State Universities within training program for immigration consultants. Such collaboration allows us to timely analyze and correctly use constant changes in Canadian immigration legislation.
Read more about our services:
Canada immigration services
Services for education abroad
About Palleonn Center
Our center is created with the purpose of professional customer service in preventing all difficulties of the immigration process to Canada, education, employment and adaptation in a new place. Going personally through all immigration and settlement steps and living in Canada for a long time, we can confidently say that we know how and why you need our experience and professionalism.
Our personal experience showed that the obtainment of immigration status is only part of the desired result. A much more important question is "How to get a job in a new country?" or the more prosaic question "What is next?". We believe that answers to these questions are our advantages. We provide not only a full range of services for our clients' adaptation in the new place (meeting at the airport, finding an apartment, selection of kindergarten or school for children, obtainment of all necessary "local" documents), but also provide professional information support in the operational methods of employment in a new country. We are called to direct our experience, professionalism, knowledge for the achievement of your goal – to immigrate, to study, to live abroad. We are represented on the market of immigration services more than 10 years and stand on flexibility, transparency and clear planning principles at all stages of your immigration process – from analysis and evaluation of your immigration chances to obtainment of visa and further citizenship of the chosen country in future.
We always estimate your immigration perspective realistically. If you have no chance of successfully obtaining permanent residence in Canada at the end, we are not able to serve you and we tell you this at the very first consultation.
We monitor all changes of immigration legislation; process your case in accordance with all instructions and requirements of the immigration act and internal directives of the Canadian government.
We provide contact details of our clients, who have already used our services and now live abroad. You can communicate with them and receive answers to all your questions about immigration.
Our common goal is your successful relocation under one of the existing programs and pathways.
Agreement signing confirms your serious intention to use our services in the purpose of immigrating to Canada. According to this agreement and the law, we provide a full package of services including your documents processing with the continual review of paperwork correctness, cross-check and analysis of the smallest errors that, in case of carelessness, usually cause failures.
The team of Palleonn Center spends at least 400 hours on your document package. Our professionalism is in the correct interpretation of each paragraph of immigration legislation in relation to specifically your case. Our major is to present each of your documents from the most effective side to achieve an affirmative result.
We consult you 24/7/365 when you want to get answers and strictly according to appropriate laws and regulations, providing you with resource list for your further research. The team of specialists that works with you is an Application Strategy Formation Manager, Technical Documentary Advisor, Application Forms Specialist, Interpreter, Proofreader, Analyst, Package Quality and Reliability Manager, Instructors in English/French and many more. All these professionals go the extra mile for your benefit.
Among other things, all work is performed in the most convenient way for you – distantly/online, through skype, telephone, e-mail or in-person with only one purpose – to make our cooperation process comfortable and productive.
Our reputation, leadership in the global market segment and strong financial indicators are results of a well-established and strategically chosen approach in the provision of the full range of services in the field of immigration and study abroad.
We are waiting for you!
Do you want to live, work or study in Canada? Send your request right now.