Atlantic Immigration Pilot Program – New Brunswick – are you a Seamstress? Sewing Machine Operator? Connected to sewing industry? Then it is time for you to immigrate to Canada!
We are glad to inform that potential employers of above-mentioned stream of immigration to Canada keep seeking specialists with work experience in sewing industry. If you have at least 1 year of related work experience and you wish to immigrate to Canada together with your family and become Canadian Permanent Resident with guaranteed initial employment offer – please, contact us for further steps and instructions.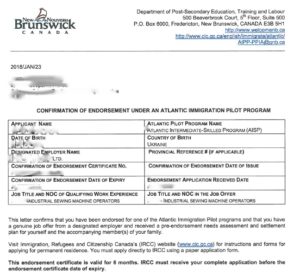 We will consult you through your chances to immigrate to Canada under the named pathway, as well as all others, that you may qualify for. We will find the optimal immigration strategy for you and your family and will service you throughout the process of immigration.
Contact us to schedule a consultation:
Email: info@palleonn.com
Skype: Palleonn
Facebook: https://www.facebook.com/palleonnimmigration/
Free Consultation