Immigration to Canada – Manitoba – nomination certificate 2018
Amazing result and speed! Our congratulations to Ganna and her family on getting nomination certificate MPNP 2018.
Each day make us better and faster. Ganna's example is a bright illustration of it.
MPNP application submitted – February 2018.
MPNP nomination certificate received – April 2018.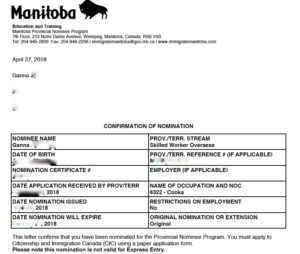 What we can do for you:
– Evaluation of chances under 70+ available immigration and visa options to Canada – individual immigration strategy for every case
– Representing your application by licensed immigration consultant in all Canadian immigration authorities;
– Full organization and maintenance of your immigration process
– Organization of preparation to international language tests for immigration and studying in Canada.
Contact us now!
Skype: Palleonn
Email: info@palleonn.com
Message us of Facebook: https://www.facebook.com/palleonnimmigration/
Palleonn – probably, the best in immigration consultancy.
Free Consultation