Let's help Canada – Canada is ready to host 1 000 000 immigrants in the next 3 years
According to strategy of Immigration Government, Canada will welcome nearly 1 000 0000 immigrants for the period of 2018-2021 years. This plan is already called the most ambitious immigration plan in Canadian history.
The number of economic immigrants, family sponsorship applicants and refugees is going to rise to 300 000 this year, to 330 000 in 2019 and finally to 340 000 in 2020.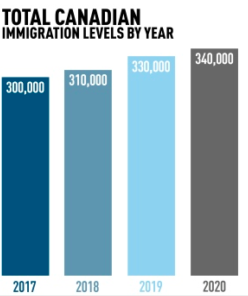 The Minister of Immigration and Citizenship of Canada announced new goals in immigration aspect, which is based on attracting immigrants in quantity of minimum of 1% of the total number of population of Canada.
"Our government believes that newcomers play a vital role in our society. 5 000 000 Canadians are set to retire by 2035 and we have fewer people working to support seniors and retirees."
In 1971 there were 6.6 working people per one retiree, but by 2012 the ratio was 4,2 to one and by 2036 it is forecasted to decline to 1-2 working age people for every senior.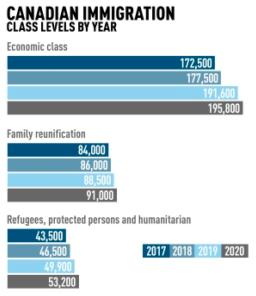 Minister is sure that immigration will lead to innovations and strengthening of all Canada's economic indexes. He also emphasized that government is working hard to reduce the processing time of immigration applications and speed up the process of getting Canadian citizenship.
As a result, government wants to attract 450 000 immigrants annually.
Sounds like a great plan! Let's help Canada's government to implement it!
For detailed information about 60+ immigration programs to Canada please contact our office.
What we can do for you:
– Evaluation of chances under all available immigration options to Canada
– Representing your application by licensed immigration consultant in all Canadian immigration authorities;
– Full organization and maintenance of your immigration process
– Organization of preparation to international language tests for immigration and studying in Canada.
Contact us now!
Skype: Palleonn
Email: info@palleonn.com
Message us of Facebook: https://www.facebook.com/palleonnimmigration/
Free Consultation