Manitoba, Canada – good news come in THREES!
Congrats to our clients with "gifts" from Manitoba Santa Claus, who brought selection in Expression of Interest of Manitoba Provincial Nominee Program (MPNP) Human Capital Priority Stream (the draw was evidently below 582, which is a great, as previous draws were much higher up to 610 points).
Santa also brought Invitations to apply to MPNP to 2 our families who have just returned from their exploratory visits to Morden, Mabitoba!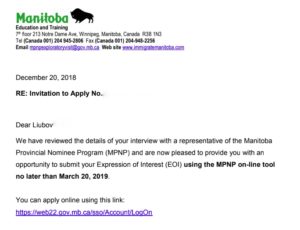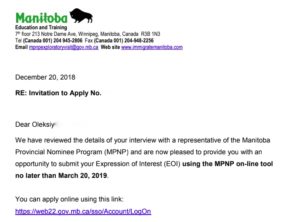 We are so happy!
If you also want to immigrate to Canada – come, call or email us! We service everyone, independently from your country of residence or citizenship. We are here for more than 12 years and make your aims – our life priority.
Canada offers more than 70 immigration programs. Defining your immigration chances and finding optimal immigration strategy for you we will bring you to Canada with permanent resident status.
To schedule a free preliminary consultation, please, contact us:
– by phone  +38063 735 37 40
– Viber or Whatsapp +380637352588
– email info@palleonn.com
– Facebook – https://www.facebook.com/palleonnimmigration/
To watch video interviews and feedbacks about Palleonn and about life of our clients who immigrated to Canada with us – welcome to our Youtube channel- https://www.youtube.com/channel/UC7J_xxO8umAm5SQx_zMFPNA
Read our feedback at  http://palleonn.com/ru/%D0%BE-%D0%BD%D0%B0%D1%81/%D0%BE%D1%82%D0%B7%D1%8B%D0%B2%D1%8B/ and on Facebook https://www.facebook.com/pg/palleonnimmigration/reviews/?ref=page_internal
Free Consultation