Immigration & Permanent Residency in Canada – feedback and achievements of Palleonn 2018
Congratulation to our wonderful clients with the final stage of their immigration to Canada 2018 process – obtainment of Permanent Resident Cards of Canada.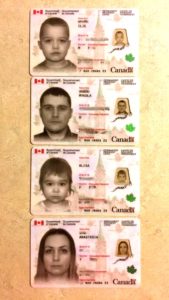 Together we went the whole pathway from Visitor visa to Canada, through work permit and temporary resident status in Canada to finally immigration visas and permanent residence cards of Canada!
PR status in Canada gives almost all right of Canadian citizenships, is issued for every 5 years with the right to extend it or apply for Canadian citizenship after 3 years of living in Canada.
We are waiting for your Canadian passports for our mutual collection of yours! Have a wonderful life in Canada!
More about immigration to Canada – www.palleonn.com and on our Facebook page.
#immigration_to_Canada #Morden_Manitoba_immigration #Palleonn_feedback
There are more than 70 immigration programs to Canada. You are welcome to address to Palleonn team for consultation and finding the optimal program and immigration strategy for you and your family.
What we can do for you:
– Evaluation of chances under 70+ available immigration and visa options to Canada – individual immigration strategy for every case
– Representing your application by licensed immigration consultant in all Canadian immigration authorities;
– Full organization and maintenance of your immigration process
– Organization of preparation to international language tests for immigration and studying in Canada.
Contact us now!
Skype: Palleonn
Email: info@palleonn.com
Message us of Facebook: https://www.facebook.com/palleonnimmigration/
Palleonn – probably, the best in immigration consultancy.
Free Consultation