Immigration to Canada – Morden, MB – settlement and employment! Success story.
Oleksandr came to Palleonn Centre being a waiter on cruise lines and had additional skills and on-shore experience. We immigrated him to Morden, Manitoba, Canada. And there he started to impress not only us, but himself as well.
Here is a small interview with him.
Palleonn – How was your settlement and initial employment in Canada?
Oleksandr – You know, it is not that easy to find the first job in Canada, especially when you are overqualified. My example can be a real demonstration of how it should be: my wife Natalia and I thought that we will be Restaurant Managers without any problems and as soon as we land in Canada. In reality, I went to work as Assembler to one of Morden's factories. In 6 months I became a Lead Hand, and in the next 5 months here I am – Plant Supervisor. I can even blow my own trumpet: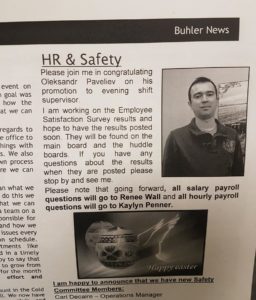 Palleonn – That was really fast and unexpected change in your career! Congratulations!
Oleksandr – This is your merit and due to the work of Palleonn team, by the way. I think you can use my immigration life as inspiration for those, who are still in doubts. I started to work from 15 CAD per hour. The first salary review was in three months – I got plus 2 CAD (this is much, I realize it now). Then +1 CAD – additionally for the Lead Hand position.
Then I worked for three more months and 1 more review at a new position – bingo – I had plus 1,5 CAD per hour. Nearer to the New Year I had 19.5 CAD per hour. And this is not all. At that time, the company's management started to talk about me as a Supervisor in the nearest future. I was offered such opportunity and asked whether I am interested.
Palleonn – You did not refuse that, heh?)))))))
Oleksandr – Of course, I  accepted it. Since March 5 – I am an Evening Shift Plant Supervisor. I am on trial so far with salary at level 47 000 CAD per year.
Palleonn – What will happen after trial?
Oleksandr – After the trial, if everything goes well, and we both know it will, I will have 50 000 CAD per year. No more hourly rates, that is year-based position. Plus 3 CAD additionally for night hours and plus overtime work – I have a lot of it.
Palleonn – Finally, your salary now is?
Александр – CAD $3700 – $4400 per month, paid bi-weekly. To say I am satisfied is to say nothing. But I know the best is yet to come.
Palleonn – Is that only your super pathway in Morden, MB or others succeed the same way?
Oleksandr – I cannot speak on behalf of others, but I know that at our factory in Morden the production volume is growing constantly, therefore, there is lack of professional workers, now we need at least 30-50 people. Those who want to get employed, find work fast and easily. There are also a lot of people who come and start there own business. All these things are much easier than in our home country anyway.
To be continued…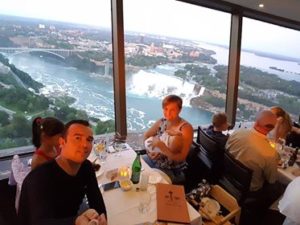 Congratulations to Oleksandr with such great achievements. We also would like to take this moment to congratulate Oleksandr and his spouse with giving a birth to a real Canadian citizen. Immigration to Canada was worth to do just for this opportunity. To present a kid with Canadian passport on his birth – that is the best gift a parent can make.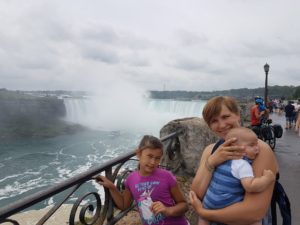 We wish you success, health to you and your family, more travelling and clear Morden sky above you!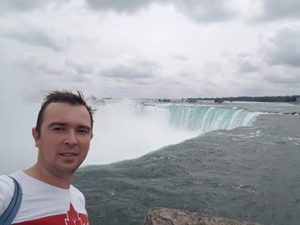 If you read this, you have no doubts it's time to immigrate to Canada. If so, read further.
What we can do for you:
– Evaluation of chances under 70+ available immigration and visa options to Canada – individual immigration strategy for every case
– Representing your application by licensed immigration consultant in all Canadian immigration authorities;
– Full organization and maintenance of your immigration process
– Organization of preparation to international language tests for immigration and studying in Canada.
Contact us now!
Skype: Palleonn
Email: info@palleonn.com
Message us of Facebook: https://www.facebook.com/palleonnimmigration/
Schedule a consultation – button below.
Order chances evaluation on immigration to Canada under all existing programs – fill in here
Palleonn – probably, the best in immigration consultancy.
Free Consultation