New Brunswick PNP Atlantic Immigration Pilot Program immigration to Canada – feedback
Our congratulations to Nadiya and Dmytro with immigration visas to Canada, they almost became our relatives during immigration to Canada process.  Immigration process of this family was very complicated. Yet we made it and proved that anyone can immigrate, it is just a matter of right strategy.  Our team made it happen only due to team work of all our staff and the family itself, as only when we work as a team we can achieve the result.
Welcome to Canada, our dear clients! And congratulations to the community of New Brunswick with getting such positive and goal oriented people.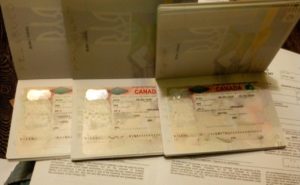 What we can do for you:
– Evaluation of chances under 70+ available immigration and visa options to Canada – individual immigration strategy for every case
– Representing your application by licensed immigration consultant in all Canadian immigration authorities;
– Full organization and maintenance of your immigration process
– Organization of preparation to international language tests for immigration and studying in Canada.
Contact us now!
Skype: Palleonn
Email: info@palleonn.com
Message us of Facebook: https://www.facebook.com/palleonnimmigration/
Schedule a consultation – button below.
Order chances evaluation on immigration to Canada under all existing programs – fill in here
Palleonn – probably, the best in immigration consultancy.
Free Consultation